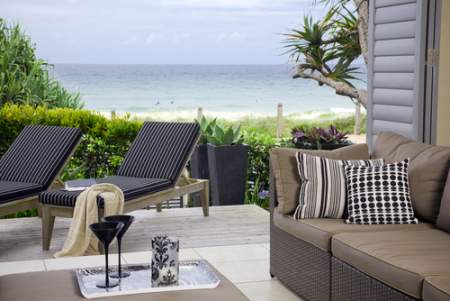 Every day can't be a walk on the beach, but life in Vero Beach can be a dreamy lifestyle. With access to a wide array of resources, amenities, and conveniences, and the beauty and activities surrounding beach life, Vero Beach is a delightful place to call home. Vero Beach, in Florida's Treasure Coast, is the county seat of Indian River County.
Vero Beach, Florida receives approximately 54 inches of rain per year, spread across a total of 85 accumulative days. There are, however, 232 days throughout the year that feel like pure sunshine, ideal for taking advantage of that fun in the fun for which Florida is famous.  Summer high temperatures are a toasty 90 degrees – ideal for cooling off in the azure waters, and winter lows may be considered sweater weather at 52 degrees.
There are three beaches with public access, including South Beach, Humiston Park, and Jaycee Park. Bring a cooler, pack a picnic, lay out a blanket, pop up the umbrella, bust open a cold one, and enjoy the water life of Vero Beach. You'll also find a variety of water activities such as boating, swimming, fishing, snorkeling, jet skiing, and more. And don't forget the camera. Vero Beach showcases some of the most amazing sunsets witnessed by humankind.
Not only does Vero Beach offer a sunny outdoor recreation lifestyle, but it also caters to that vacation vibe of good food, flowing drinks, and souvenirs. There are dozens of places to grab a casual bite to eat or get fancy for a fine dining atmosphere. Shoppers find themselves in 7th heaven in the collection of shops and boutiques, golfers enjoy the award-winning courses, and there's always something fun to do. And, as if that's not enough to get you excited, Vero Beach is also home to Disney's Vero Beach Resort.
Vero Beach has a rich historic district downtown, and a total of 15 places within city limits that are listed on the national register of historic places., a strong presence of art and culture, and also has a strong work force and education system.
Although popular as a tourist vacation destination, Vero Beach is home to a population of around 16,017 residents in the 32960 zip code. On average, the annual household income in Vero Beach is around $42,246, slightly below the state's average annual household income of $49,426. Homes in the area hold average values of $220,422, which is higher than the state average of around $179,800.
Students living in Vero Beach attend schools governed by the Indian River County School District. There are 20 are schools, as well as private schools and a few institutions for higher learning.
Ocean Drive is a hot spot in town for many because of the local farmers market where the locals can buy fresh food while visiting with the neighbors. It's also an area of celebration come time for festivals, concerts, and parades.
Nobody can argue that Vero Beach, Florida is a phenomenal vacation destination, but it's also a remarkable community to call home.
Your real estate agent is the best source of information about the local community and real estate topics. Give Florida Home Pros a call today at 888-973-7828 to learn more about local areas, discuss selling a house, or tour available homes for sale.